New office on Aleksanterinkatu – Lieke moves to a new office on 7 August 2023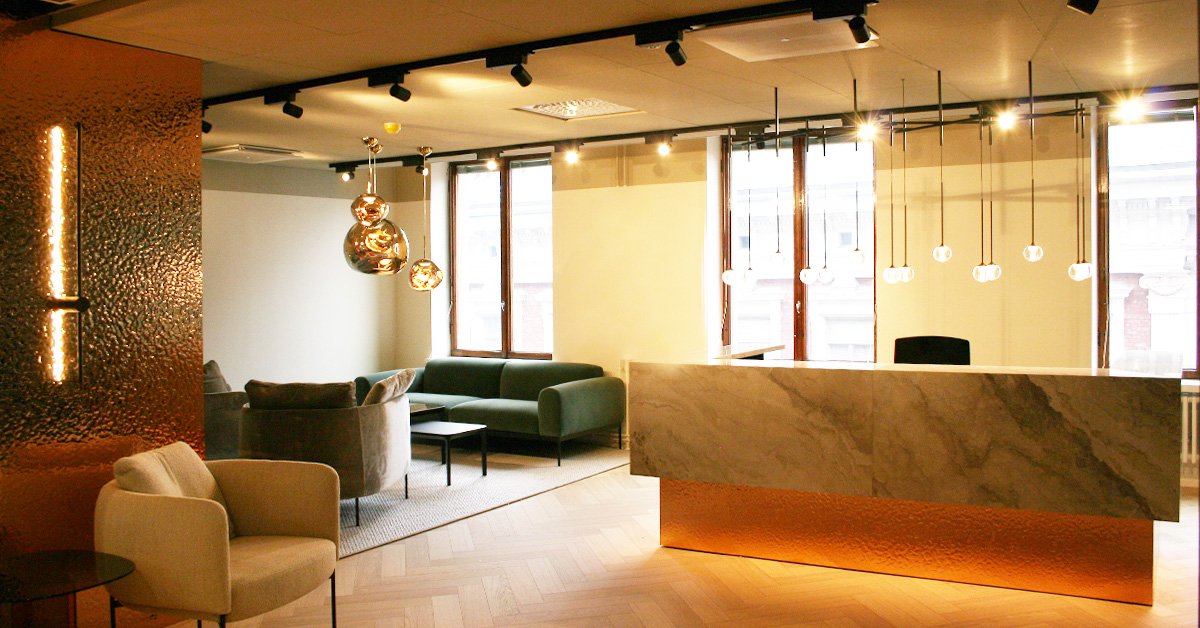 As of Monday, 7th of August, Lieke Attorneys Ltd's office is located at Aleksanterinkatu 11, 00100 Helsinki. Located in the Hamster block in the heart of Helsinki, "The First" building offers Lieke bright, comfortable, and functional premises on the fifth floor of the building.
"Our goal was to find premises that would allow us to achieve the elements that are important to us: working peace and quiet, working together, the comfort of our staff and clients, and the functionality of the premises, taking into account the different needs. We were delighted to find a suitable premises at the corner of Aleksanterinkatu and Kluuvikatu. Of course, from the very beginning it was also important to us that the office is aesthetically pleasing and that we make full use of technology so that our working environment inspires and enables efficient working", says Managing Partner of Lieke, Ville Vyyryläinen. The new Lieke office was renovated in its entirety and the new premises were completed at the beginning of August. The facilities include soundproofed office rooms, group working rooms, and meeting and lounge rooms of various sizes. The heart of the office is the social area for employees, where we meet for lunch, coffee breaks, social events, and internal training sessions.
The people of Lieke have been deeply involved in the designing and decorating of the premises: "We felt it was important that the heart of our new premises is a meeting place for the people of Lieke, which brings our people together in the same space between their work tasks. When you go for a cup of coffee, there is always someone to have a few words with. As the number of our colleagues has grown, there has also been a need for more space – there are now around forty of us. We strongly believe that working in our office has a positive impact on our work community and it is important for us to offer our employees a place where they are happy to come and enjoy being there", says Vyyryläinen.
Special attention has also been paid to the client and meeting spaces already at the design stage. The client facilities have been designed with the comfort of the guests of Lieke in mind, says Vyyryläinen: "A good visitor experience is created by small things that form a well-thought-out overall experience. This is something we have paid attention to, and we hope that our guests will enjoy it too. We warmly welcome everyone to visit our new office!"
As of 7 August 2023, Lieke Attorneys' postal and visiting address is:
Lieke Attorneys Ltd
Aleksanterinkatu 11
(entrance Kluuvikatu 6 A)
00100 Helsinki
Finland
Other company details remain unchanged.